About communityworks, inc.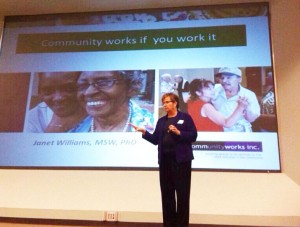 Started in 1991, communityworks, inc. began as the leading home health agency in Kansas specializing in disability advocacy case management, and consulting – each with a strong emphasis on community. communityworks believes the perfect balance of community, family, and rehabilitation professionals can assist anyone in reaching their goals. The communityworks model has impacted thousands of people, not only the consumers and families it has worked with, but those who have adopted it as it continues to spread.  Our philosophy is simple, provide empowerment, self-determination and encourage community involvement to people of all abilities. Due to the popularity of the philosophy, the company evolved into a nationally recognized training and advocacy organization that promotes and establishes community based rehabilitation.
communityworks representatives have spoken at numerous local and national conferences and seminars.  We've worked with organizations on every level of brain injury rehabilitation consulting – from helping the State of Alaska develop a way to support their residents with brain injuries with state provided services to helping local police departments recognize signs of a brain injury. We always rise to the occasion to educate groups about how we can support our neighbors in our community.