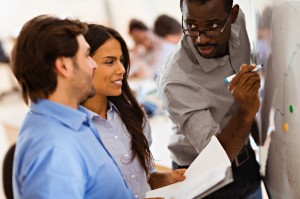 Certified Brain Injury Specialist Training (CBIS) – We have worked with thousands of people with brain injuries.  Let our experience, combined with the curriculum of the Brain Injury Association, teach your team how to understand brain injury in the most informative CBIS training in the country!  Let our certified professional team train members of your organization to be certified brain injury specialists.
More About Certified Brain Injury Specialist Training
CBIS training benefits include:
Better knowledge of brain injury and rehabilitation practices.
Membership of a growing field of professionals with brain injury expertise
Reach peak performance and best practices.
The program is governed by the Academy of Certified Brain Injury Specialists (ACBIS) and is administered by the Brain Injury Association of America in Vienna, Virginia. The training and certification exam are intended for paraprofessionals and professionals at all levels who want a strong foundation in the best practices in brain injury rehabilitation. At this level, applicants attend a training to prepare them to take the certification examination.
Eligibility Requirements
Applicants must have had 500 hours of currently verifiable direct contact experience with an individual or individuals with brain injury.
Experience can be paid employment and/or academic internship.
The qualifying experience must have included formal supervision or have been conducted while the applicant operated under a professional license.  Volunteer work does not qualify.
Applicants must have a high school diploma or equivalent.
Candidates must pass (80% or higher) on the certification examination.
"I've learned more from you than all the books I've read on TBIs."
– Eduardo Campoamor, Assistant Executive Director, Dean Wayland Baptist University
"You bring humor into this…humor is important to recovery."
– Pamela K Sprout, Owner of Employ Ability Anchorage, Alaska
---
CIT (Crisis Intervention Team) programs are local initiatives designed to improve the way law enforcement and the community respond to people experiencing mental health crises. They are built on strong partnerships between law enforcement, mental health provider agencies and individuals and families affected by mental illness.  For more information visit the CIT International website.
Too many times individuals who have experienced a Traumatic Brain Injury are misperceived or misdiagnosed as having a mental illness.  Our goal at communityworks, inc. in taking part as a CIT Instructor is to assist law enforcement officials in distinguishing the difference between TBI and mental illness.  By learning to identify the signs of traumatic brain injury, law enforcement can help break the cycle of repeat offenders by assisting them in receiving the needed treatment available to them in their community.
Contact us to learn how we can partner together to more easily distinguish between TBI and mental illness.
---
Program Development
communityworks, inc. is a nationally recognized service provider for individuals living with disabilities. Working in collaboration with people living with disabilities, communityworks' professionals team with physicians, decision makers, government officials, businesses and families to develop support systems that help consumers increase self-sufficiency at home and in the community. Every day communityworks and its staff strive to assist consumers to recapture the enjoyment and routine of day-to-day living.  As our philosophy and mission have gained recognition, we are being sought out to assist other communities in different states reaching as far as Alaska to better understand our model and how to make it work for them. Janet Williams and other communityworks professionals have met with Alaska's state personnel to collaborate on the best way for Alaska to develop their own program that mirrors our communityworks model here in Kansas. This is ground breaking for the state of Alaska due to no current services being in place to meet the complex needs of those who have experienced brain injury and the cognitive and behavioral challenges that can accompany that injury.
"And thank you again for that wonderful training! It has radically changed the way
we do advocacy and generated wonderful conversations around trauma injuries."
– Chelsea Ren Morton, Director of Employment Services
Willow Domestic Violence Center
In this video, Steve & Kevin explain what they feel to be the most important components of a brain injury recovery program, from their first hand experiences.  Our nationally recognized communityworks team has decades of experience developing community and state programs to assist those who have survived a brain injury to live, work and play in their home and community.
Our team approach, with the consumer at the helm directing their own services, enables the consumer to define their goals and receive the therapy and independent life skills that will allow them to live their life their way.
Contact us and see how our professional staff can assist you in developing a similar program in your community today!
Webinars
communityworks, inc. offers an array of options for you to obtain your Continuing Education Units (CEUs) for your license requirements.  A sampling of topics that we are often asked to train on include TBI 101, Adaptive Equipment, Safe & Smooth Discharge Home, Communication Strategies, Substance Abuse and Brain Injury, Law Enforcement…How to Identify TBI, and Eligibility & TBI Waiver Screening.
We currently offer Continuing Education Trainings in the following disciplines of service:
Physical Therapy
Occupational Therapy
Speech Therapy
Social Work
Certified Rehabilitation Counselors (Vocational Rehab Counselors)
If you are interested in CEU's for a different discipline, just let us know!
We are in the process of developing a way to watch pre-recorded webinar sessions on demand, so stay tuned!
Be sure to stay up to date with our latest opportunities for training by visiting our calendar.
Please sign up for our mailing list if you would like to be notified about upcoming training opportunities.